Everybody I'd spoken to in the run-up to my trip to Sri Lanka had asked me if I was going there for surfing. Actually come to think of it, I can't remember if the boss had said "you're going surfing" as a question or an instruction. Anyway, surfing was on the agenda and this time I was going to stand-up on the bloody thing and catch some waves.
If you want to go surfing in Sri Lanka you're almost spoilt for choice. The south and south east coast of Sri Lanka boarders huge expanses of ocean that create consistent swell. The only issue is that you have to catch the right coast at the correct time of year. The south coast experiences rainy season throughout the Northern Hemisphere's summer where-as the east coast of Sri Lanka has rainy season during the winter months. And you'd be wrong if you're thinking "surely rainy seasons means bigger surf and fewer crowds"… the only reason there are fewer surfers there is because where there were once perfect, glassy, barrelling waves in the dry season, during the wet season there is a rough, unsurfable sea. So we'd timed our trip perfectly to incorporate Arugam Bay, a chilled surf town in Sri Lanka's south east corner just north of the famous Yala National Park.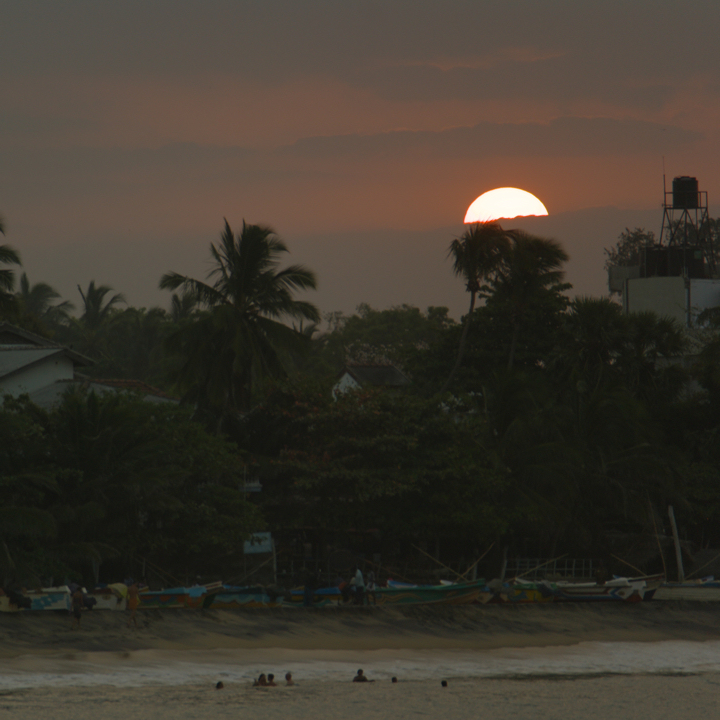 A-Bay at sunset
As I've established I'm not a surfer, but because of the sports parallels with snowboarding I'm actually really into it. I suspect that if I didn't live slap bang in the centre of Europe that I'd be an avid waterman. My mission during this trip was to stand up and cruise down some waves throwing shaka signs at my girlfriend Collette on the beach. For this I needed lessons and to arrange those I had to scout along Arugam Bay's strip to find a surf school. We called into many surf schools and established that the going rate was about 2500 Rupees for a lesson and 500 Rupees for board hire, about 20 Euros for a couple of hours! At this point we'd met a couple of super friendly Danes, Rasmus and Sena, so as a group we booked a lesson. In the end we chose Dulip and his brother Lesitha from the Excellent Surf School as our instructors. It turned-out that Dulip had lived in Bournemouth in the UK, where I'm originally from, so we had plenty to chat about when I wasn't drowning in waist deep water.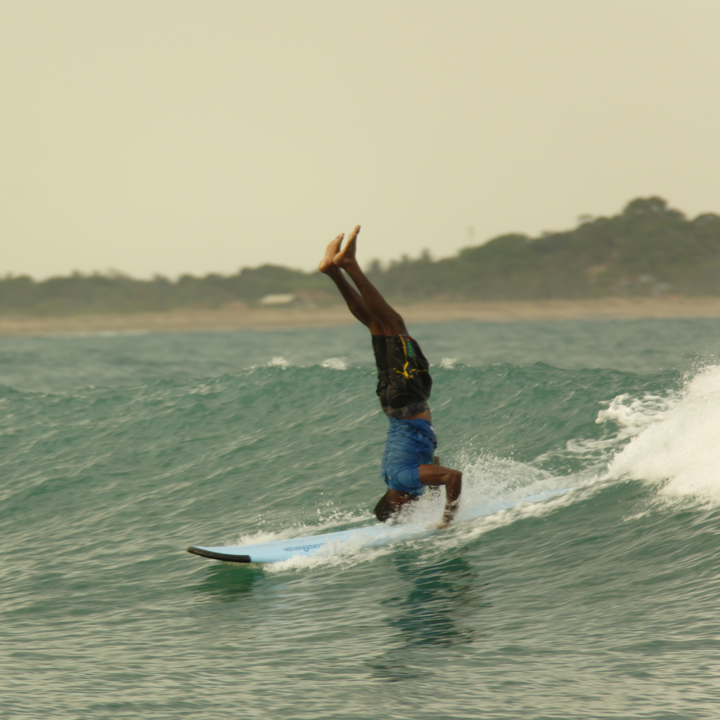 Our instructor Dulip makes a mockery of every beginner in the water, us included
The next morning our surfing posse met with Dulip and Lesitha outside the Excellent Surf School, loaded our boards onto the roofs of two tuktuks and burnt rubber to Elephant Rock, a sheltered surf break that's perfect for beginners, at least when the surf is pumping at the other breaks. There are nine well-known point breaks around Arugam Bay so it's more than likely that avid surfers will find something that agrees with them. After a 20 minute high speed tuktuk ride we'd arrived at Elephant Rock. Rasmus and I were riding in Dulip's personal tuktuk, the fastest and flashiest in the region. The chrome shovel mounted on the back, go faster stripes and a chain-link steering wheel gave Dulip's wheels a Compton meets Asia vibe. After a quick climb across the rock to the bay we were ready to begin. I won't bore you with the details, needless to say on the large foam tankers we were surfing both Rasmus and I were standing and riding waves within a couple of waves. As our confidence grew, Dulip and Lesitha persuaded us to catch larger and larger waves, bobbing up and down in the surf, selecting waves for us and telling us when to paddle. The stoke was high that evening and we celebrated with beers and freshly caught Yellow Fin Tuna at Gecko's, one of Arugam Bay's best restaurants, owned by an English woman Liz and her Sri Lankan husband.
A short climb to the top of Elephant Rock rewarded us with this incredible view
The next three days were a case of spending the mornings lounging at Mambos, a shaded beachside bar with great views of the ocean, hammocks and a ping pong table and then afternoons at Elephant Rock with Dulip, catching more waves and building our confidence. By day three it was time to step-up to the hard composite boards and size down a foot or two to an 8'2"… which in surfing terms is still enormous.
Although Arugam Bay is a real hub for visiting and native surfers there's more than enough there to keep non-surfing travellers happy, although for most a good book and beach vibes are enough. The small village has a fine spread of restaurants and guesthouses for all budgets. We stayed for the majority of our stay at the Coco Beach apartments run by an incredible and helpful man named Matthew and his team, which I can thoroughly recommend. Gecko's was another highlight for us because of the incredible quality of the food and Liz the owner's stories and friendly welcome. In fact one evening Rasmus polished-off two tuna steaks, which goes to show how good the steaks were and how big a hungry Dane's appetite can be. The Hideaway was another cool spot; hidden with a walled garden this mellow and shaded oasis provided a nice rest bite from the baking mid-day sun. One highlight that I almost forgot to mention is the tailors at the north end of the high-street. There it's possible to get custom board shorts or bikinis made with your choice of fabric for only 2000 Rupees, yep that's about 12 Euros. Make sure you get measured-up at the start of your stay if you want some custom boardies because the tailor needs three days to manufacture your order.
After 6 days of chilling and surfing, yep we stayed an extra day, it was time to say farewell to Rasmus and Sena, Johnny and Kate (another couple we'd met) and head west into Sri Lanka's Hill Country… a mecca for any tea drinker. I think if we were planning the trip again we'd probably plan another couple of nights because Arugam Bay had been such an enjoyable experience.
Be sure to check-back next week for the final instalment of my Sri Lanka Diary.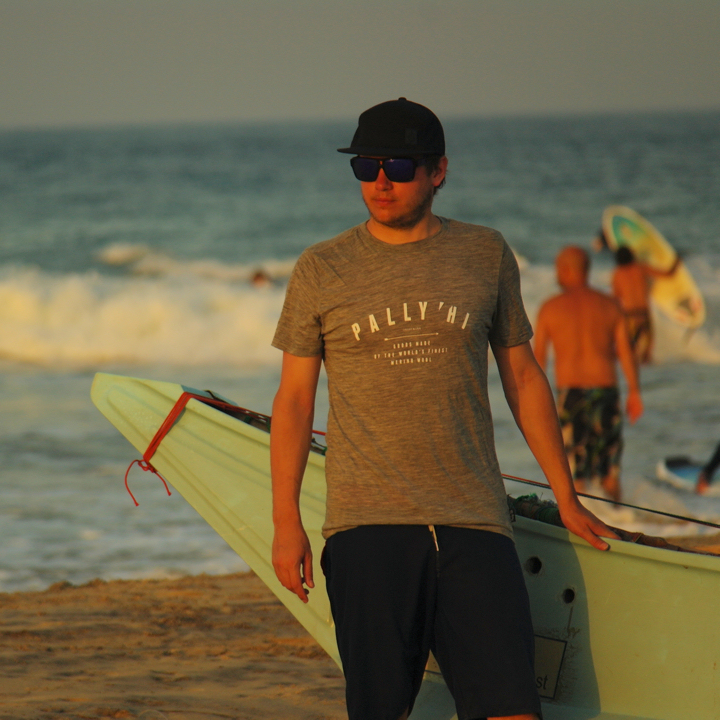 Beneath the sunglasses I'm doing the Blue Steel pose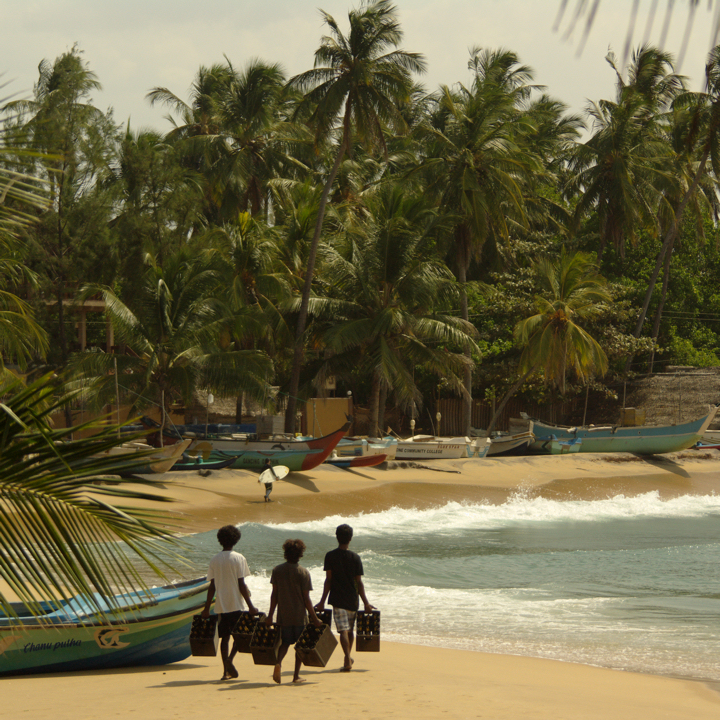 The staff at Mambo's head into town to stock-up on Lion Beer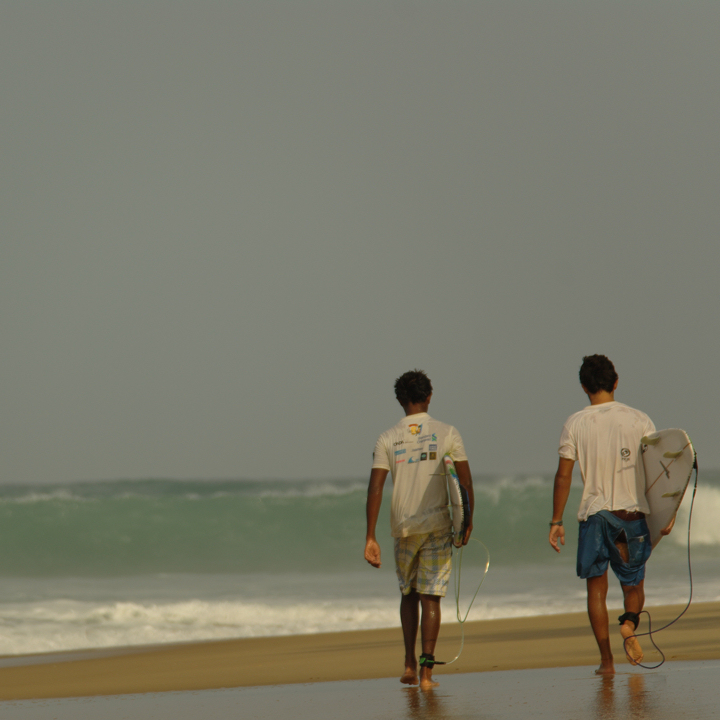 Two surfers taking the paddle-free shortcut back to the line-up for Arugam Bay's Main Break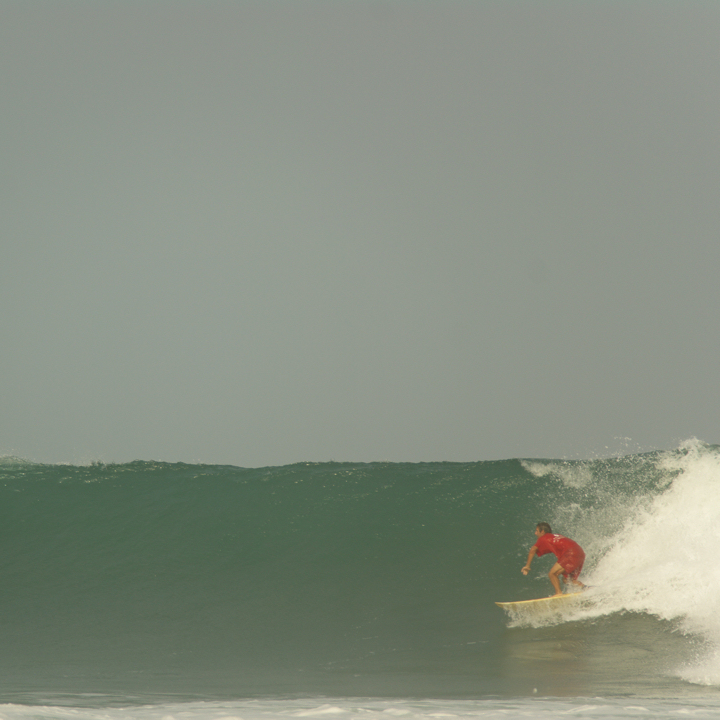 A visiting surfer enjoys a bottom turn in pumping over-head surf at Main Break