Words by Nic Spiers, photos by Michi Reinhardt
This trip was in the planning for 1 year...well, I say planned, planned as far as my friend and I chatted about it over beers and flat days of no surf through the season. The idea was hatched on our last surf trip to Brittany.

At the end of the summer season in Europe comes the much anticipated shift to bigger swells that the winter storms will bring. The surf spots become less crowded as the holiday season is over and the coast is hopefully firing with bigger waves. As the temperature drops most surfers will migrate south to Portugal chasing the last glimpse of summer. That's when we decided to plan trips in a different direction to the mass migration; we were ready to brave the colder weather and headed north, hoping to find less crowded spots...the surfers dream!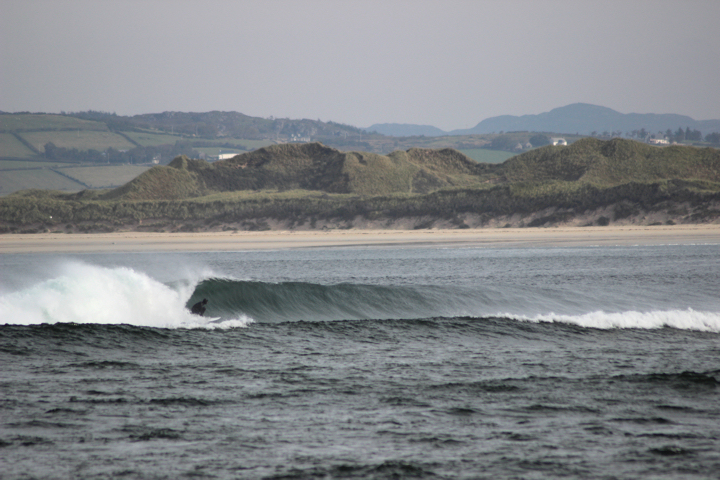 I'd always wanted to go to Ireland, the land of mystical myths and tall tales, the land of Guinness, the land of merry people and live music playing in the pubs, warmed by the cosy fire in the corner, the land of rainbows and pots of gold.....who wouldn't want to go to such a place!

Although I'd love all my friends to join me on these adventures, on this trip I was joined by one of my oldest and favourite pals, Sarge, who I've done a few trips with, including Canada and France. Sarge always has me in stitches and he's one of the most laid back people I know, you can put him in any situation and you can be sure he'll be at ease in no time, having people creasing with laughter.

So we chose the month of November to make our journey to the mystical island. Most folks thought we were crazy, questions like "Ireland!! It's going to be freezing!! Why you going there? Why not go to Portugal, Morocco or something like that!?" and, "Ireland! Is there good surf there?" were pretty commonplace.

So we went prepared, taking two vans, eight surfboards, thicker wetsuits, booties, hoods, my trusty and well used Pally'Hi Nap Bag for the cold nights and a pair of eyes open to fact that Ireland had a high chance of being freaking cold!!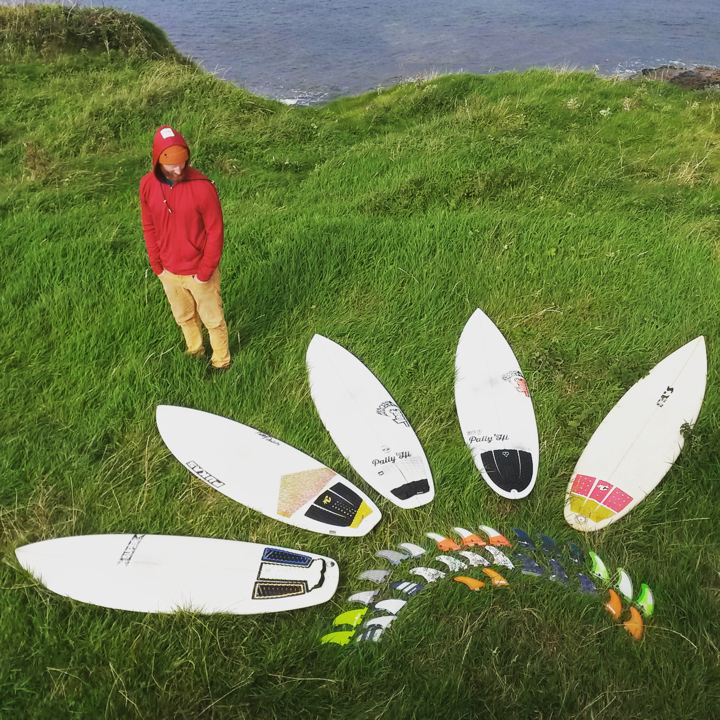 We got really lucky, in the whole month we were there we had no more than four days of rain, which is a statistical miracle! We literally enjoyed sunshine every day, it was like summer! The locals kept saying to us, "This is so rare, it's unheard of, you guys must have brought the sun with you!" I'm certain that is the first time anyone from Ireland has ever said that to an Englishman!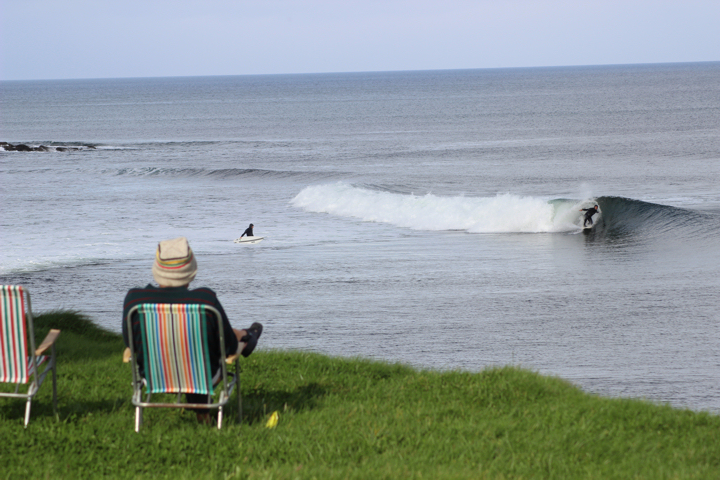 We started in the southwest and as any good Irish adventure should begin, we found ourselves in a pub, bellies filled with eight pints of Guinness a piece and singing along to the local band. Our trip had begun as it would undoubtedly end!!

Throughout the trip we followed the west coast, known as the Wild Atlantic Way. It's one of the most spectacular coastal roads I've ever driven! It's everything you would expect, a road that twists and turns, climbing up and winding down hills, through foggy valleys, around rocky bays and on the edge of massive cliffs. On route you will encounter more castle ruins than you can keep count of.

For the surfing, we had high expectations and we'd heard tales of point breaks, reef breaks and beach breaks that peppered the coastline of Ireland. We'd heard stories of people pulling-up at a break with no crowds and a look up and down the coast would reveal a handful of other spots to choose from...this is not far from the truth. If you pick up the surf bible, 'The Storm Riders Guide', you'll be sure to find yourself on the right path and you can easily find your way around.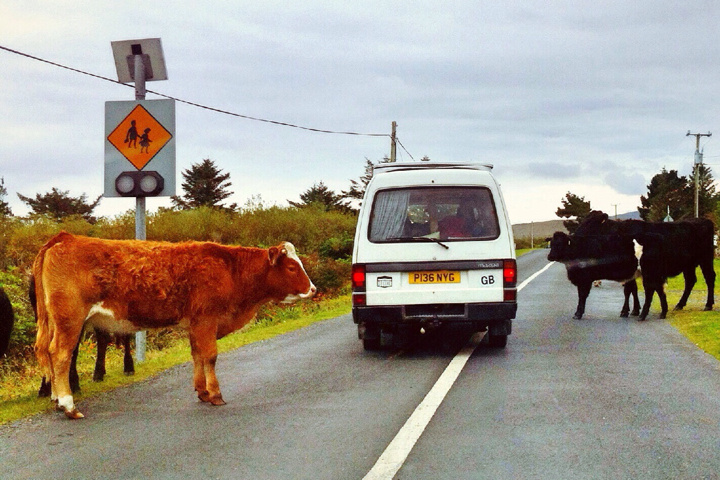 We stopped at a few famous spots, but it's easy to find surf spots away from the crowd if you put the effort in and explore. There were two spots in the book that really stood out for us, then a couple that we found after some exploration and a so-called secret spot that was kindly pointed out to us by a few locals up north, but wasn't actually secret. The first stop for us was Doolin's, where you'll also find the famous break, Crab's on Crab Island.

Doolin's is a point break, but the rocks are covered in seaweed which makes it a little bit friendlier. It offers mainly right handers and the occasional left, working best at mid through low and back to mid tide. The waves were head high and perfect!! For two straight days we had the best surf of our lives to date! We caught and surfed the longest waves we'd ever ridden...it was incredible. We were used to surfing beach breaks all summer; the kind of waves where where you have to rush down the line just to get one trick in. This was a whole other game. With this wave we had time to enjoy every turn and the occasional cover up barrel too. We just couldn't believe it.

The second best spot for us was further north, known as Magheroarty in Donegal County. It's classed as a point break with a rock bottom, offering nice long lefts. It can handle some size and it's a great wave to train on, it doesn't get crazy steep and is a lot of fun. We camped out and surfed there for four days in total.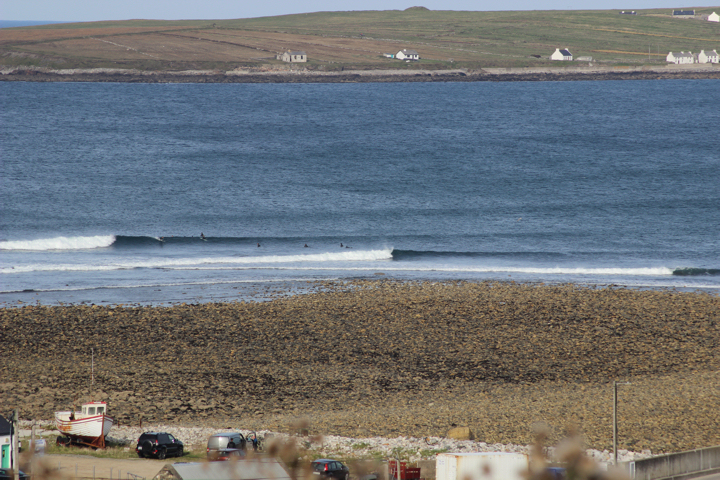 Now, the surf was all time, but what really made it truly memorable was the Irish people, in and out of the water. They were so friendly and genuinely welcoming to their magical land, we felt part of the family. We made some great friends, such as Phil and Triona up in Donegal. Together they made our trip one that we'll never forget. Triona so kindly welcomed us into her home and let us take a very welcome break from van life in the middle of our trip, letting us recharge in normality for a few days. We'd all go surfing together and then back to the house for a good feed and Phil would bring the dessert treats! They also showed us the fine night life of Dunfanaghy, which left us nursing a heavy hangover the next day! In case you haven't heard, the Irish can drink.

Whilst in Dunfanaghy we met up with the local surf shop/school, Narosa, and they were also very welcoming and offered suggestions on a few spots which were worth a visit. It turns out that one of the owners, Duncan, knew Pally Hi and Amplid, having helped develop and design one of the snowboards. If you're in their area, get in touch for lessons and surf hire.

On our travels, a few friends flew out to meet us. Sarge's pal from the States, Mike, came out for a week. His loving wife and kids literally packed his bags and his long board and pretty-much pushed him out the door! He had one hell of a journey to Ireland and kindly the airline courier lost his board and luggage too. That didn't stop Mike from jumping out of the van on arrival, putting on a borrowed summer wetsuit and stealing a board for a surf!!


Then our good friend Michi flew out from Germany. He's a photographer and wanted to hang out, get some surf images and Ireland lifestyle shots. He's got a keen eye and snapped some amazing pictures, one of which he's been displaying at an exhibition in Germany. Once he's added the finishing touches, he'll hopefully send me some and I'll post them on the next blog.

Rachel also joined us for a while. She's a hard core lady for sure, she can handle her own in the line-up and she camped in a tiny car for the duration of her stay! She hails from the south part of the UK and is a mad keen surfer...much respect.

There's so much I could write about and I've only just scratched the surface of how amazing our trip to Ireland truly was! We visited a lot of cool sights and places, The Cliffs of Moher being one of them. We jumped on a boat and got to see the second biggest cliffs in Ireland from the sea. It's really worth a look if you get the chance.


Our final stop was Dublin. My mum joined us for this part of the story and if you think the Irish can drink, you haven't met my Belgian mother! We went out one night and mum matched us pint for pint and when the band played the fiddle, she put us to shame on the dance floor!! Nice one mum.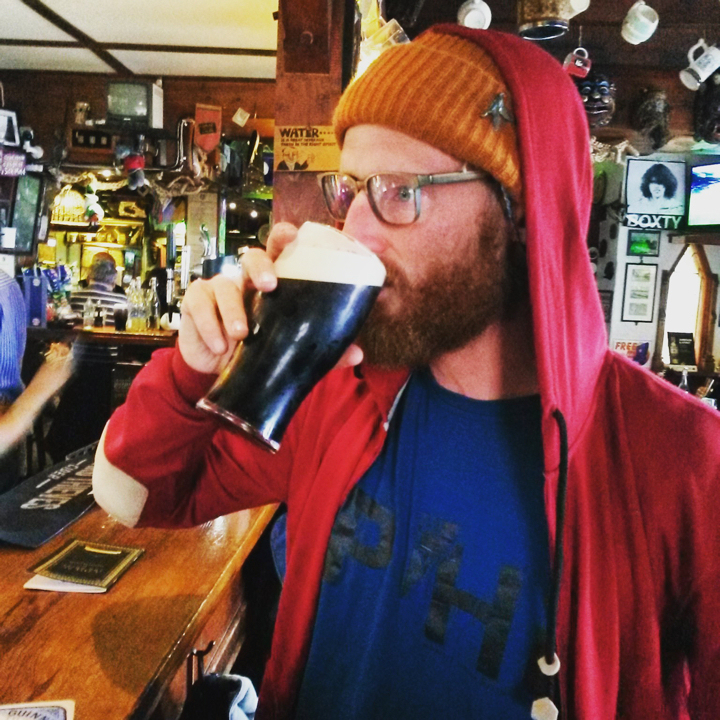 So, this trip, the place, the beer, the beauty, the people, the music, new friends and some of my favourite people in this world, all made this trip one of the best I've had to date. I know, we'll be going back to the Emerald Isle, no doubt about it!

Thank you Ireland...'til next time.