Words by Nic Spiers. Photos by Michael Reinhardt & Nic Spiers.
The annual trip with my closest surfing and travelling companion, Sarge, had been in the pipeline since our previous trip together in Ireland, back in 2015. After a few Guinness and whiskeys, we concocted an idea and ran with it.
Our next adventure came to us when we heard tales of a place with pristine beaches that peppered the coastline with clear blue waters, world class waves and empty line ups. The rumors of such a place were accompanied by stories of fine culinary master pieces, Hagis and deep fried Mars Bars, washed down with the brightest of beverages, Irn Bru! So, with that in mind, our sights were firmly set on Scotland and the Isle of Lewis, part of the Outer Hebrides.
We got the usual questions: "Why you going there!?", "Won't it be freezing?" and "Is there any surf in Scotland?"
A handful of brave souls were up for the search and of course the usual suspects, Mike and Michi, were in.
The road we were to travel, from my summer base near Biarritz, France, to the Outer Hebrides was long, and actually ended-up getting longer with the usual hunt for waves. We covered at least 6000kms on our four-week adventure. And this trip in particular faced a number of challenges, the main one being that I had no transport! All my gear and I were in the southwest of France and my old van had decided it didn't want to play anymore, the engine refusing to start ever again. So, I found myself stuck in France with no wheels and too much gear to fly back to the UK with.
I called one of my closest friends. I then had to convince 'said friend' that it would be a great idea to find me a van in the UK, buy the van, drive the van onto a ferry to France and drive down to my summer residence and pick me up! We would then kit the van out into a surfing camper and travel back to the UK. All this under the pretext of a "free holiday" with a five-day time limit to build a camper van! My oldest and dearest friend, Asa, was the man for the challenge, I really couldn't have done it without him! We worked long hours to transform a Ford Transit into a handsome camper van. It was a stressful few days, but the result was actually better than we could have an-ticipated.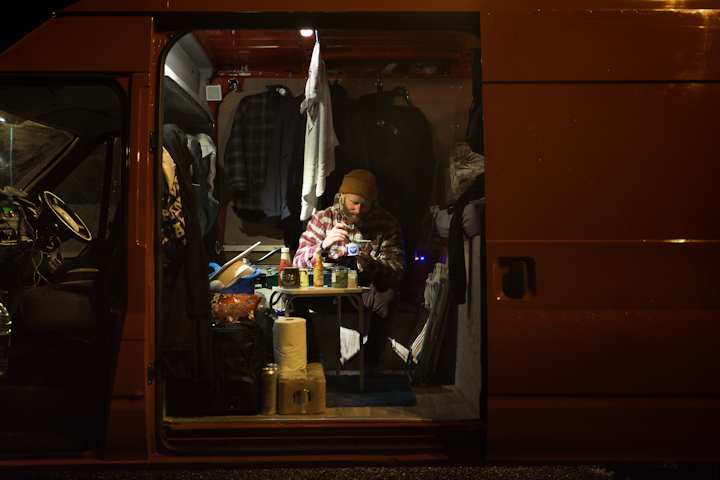 With the van completed, stickers applied, Pally'Hi attire folded away and surf gear loaded, the trip could start… in the wrong direction of course! We headed south to San Sebastian for tapas and Ri-oja wine to kick-off the trip in style and experience the superb nightlife the vibrant city is famous for. The town and its people never fail to deliver a night to remember…or forget if the wine flows, which it usually does.
With the promised, but short, holiday I'd offered to my friend taken care of, we headed back to the UK to meet Sarge. Together we made the final touches to the van and headed to the airport to pick up our American companion, Mike. From there we headed to Wales and scored some beautiful waves at Freshwater West. 3ft waves, offshore winds and a majestic sunset…a perfect start to our trip.
The following day we woke to a fresh and misty morning. I was extremely happy to be wrapped up warm in my trusty Pally Nap Bag, which has seen a few journeys now! The sea had become flat over-night, so we headed to Surf Snowdonia to score some rides at the Wavegarden. The concept isn't for everyone, but us, we're fans! Guaranteed waves, a unique experience, a crazy location, good people and great food… it's a lot of fun and the guys there made us super welcome. What's not to like?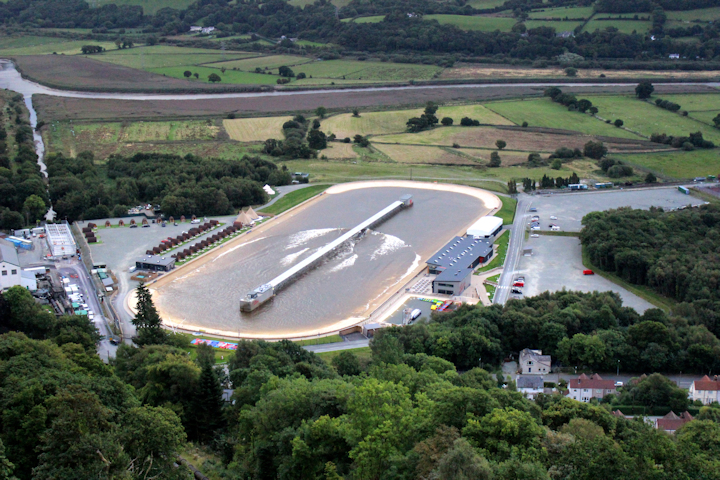 The next day we started the road north. Being the weekend, it would have been rude to not stop-off in Manchester for a night out! We met up with some of my very good friends, Cal and Anna. These two know how to cook-up a feast and have a wild night out. After a few drinks at their local pubs we found ourselves dancing the night away to the early hours followed by a house party 'til the sun rise. Needless to say, we needed the rest of the weekend to recover! Unfortunately, it turned out, we didn't have time to recover! Sarge was adamant by his wave predictions that the waves in Scotland were pumping the following day. No time to waste, we said our goodbyes, thanked Manchester for some lousy hangovers and punted it to Thurso in Scotland, the most widely-known surf spot in that part of the world. The promise of overhead barrels kept us motivated on the road.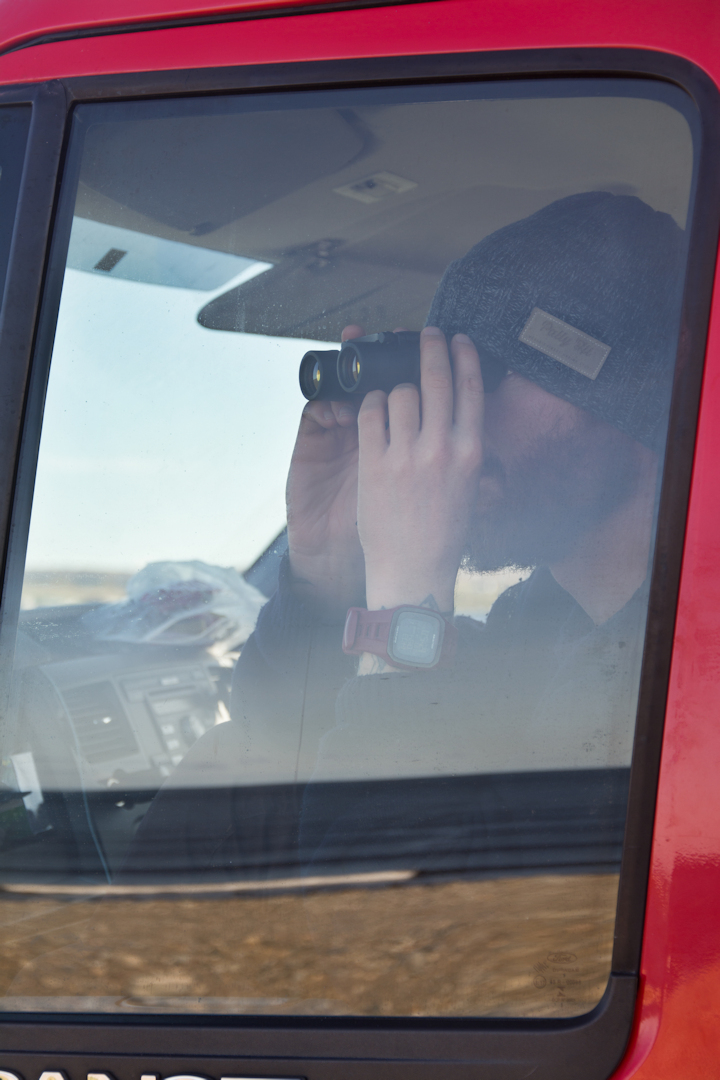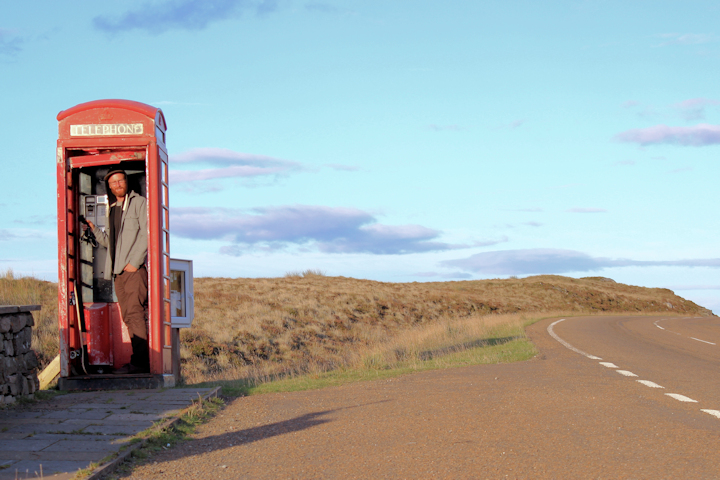 It's always exciting when you're heading to a renowned surf spot and your friend says it'll be firing. I was pretty much suited-up in my wetsuit by the time we pulled into the parking, ready to jump in! However, I shouldn't have bothered, our dreams were shattered by a flat, wave-less sea. Demoral-ized, we hunted in the local area for a freak wave or two, but our luck was up. By chance, in the depths of our despair, we met a local grounds-keeper who invited us to park up in his "wee harbor", which was conveniently sheltered from the wind. We parked-up and called it home for a few nights.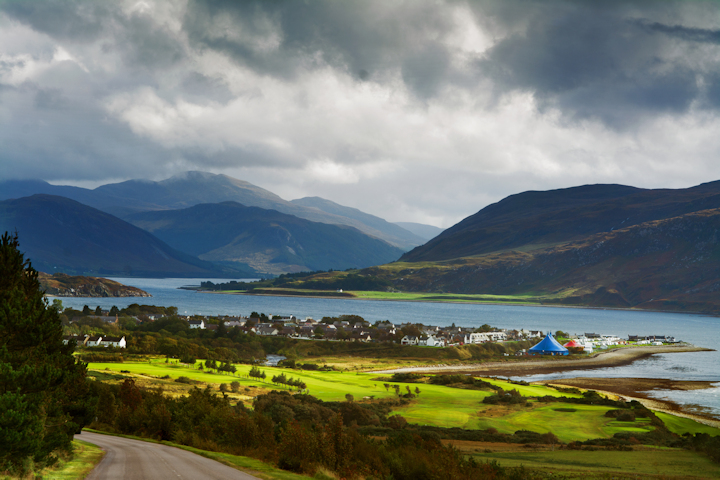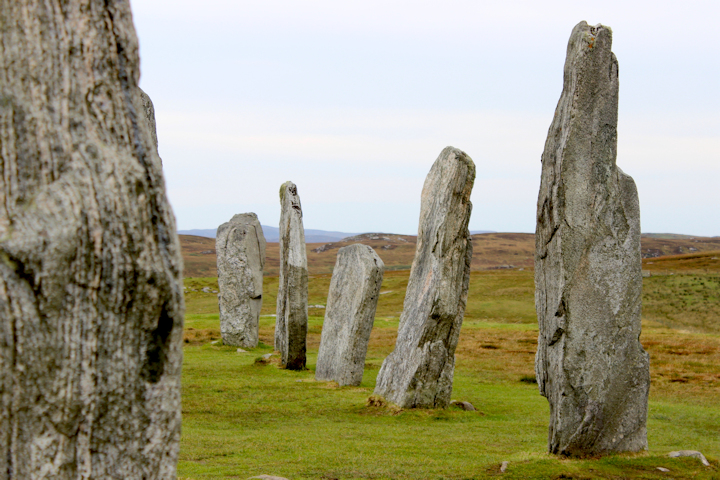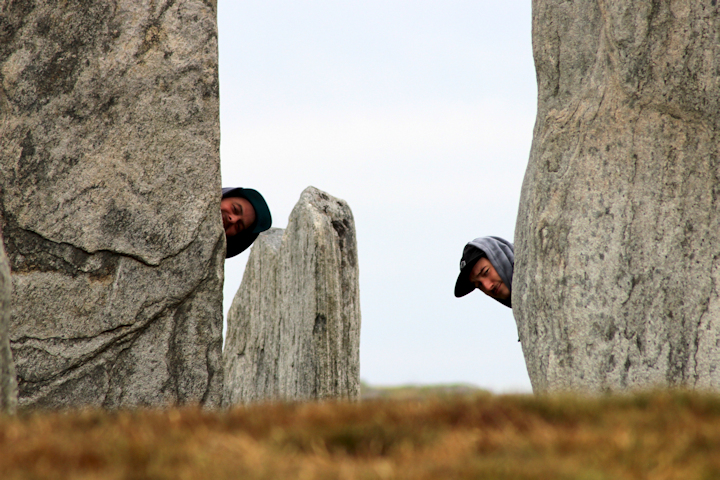 We spent some days driving along the coast searching, only to find ankle-high waves. Then, to our surprise, we scored in Torrisdale. Torriside is a really nice spot to park, over-looking the bay and the surf. There's a small river which you paddle across to reach the beach. The river mouth forms per-fect banks that offer some decent lefts and rights. It didn't look powerful when we first checked it out, but we were pleasantly surprised by the waves and scored fun rides. It's pretty special when you're paddling out after surfing a wave and you spot your pals catching a peeling wave, riding to-wards you. Those are the moments that put a smile on your face and give you something to chat about over a pint at the pub. Torrisdale was one of our favorite spots; we surfed it from hip high to easily overhead, lefts and rights and there was a maximum five people in the water at any one time. If ever you're on the east coast of Scotland, it's well worth checking out. Simply park-up to get a stunning view of the break.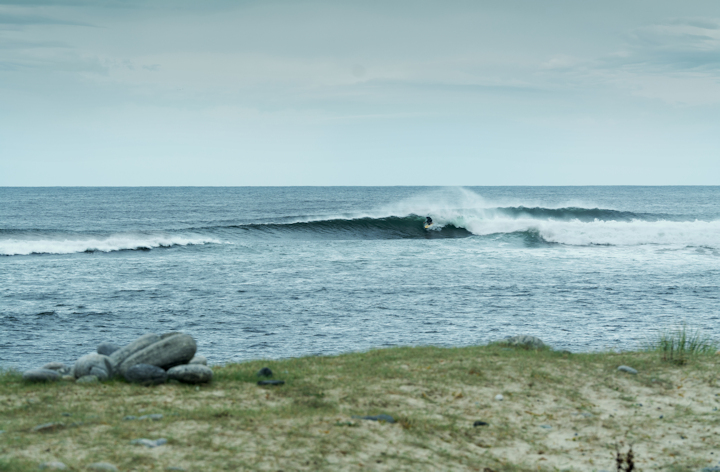 When the swell did kick in, we drove back to check out Thurso. This spot offers a "rolling start" take-off into a fast peeling right hander and offers some speedy barrels. You can park at the farm directly in front of this reef break, which offers the best seats to watch the show.

I paddled-out under-gunned for the size of the waves and paddled for a few overhead sets. It was a wicked wave, I have no doubts about that, but these kinds of spots attract big crowds, and not many of them can surf. It was hectic and somebody collided with me within five minutes, the guy couldn't even paddle properly! There were a few sitting ducks and it always takes the fun out of it. I bagged a wave and bailed. There were plenty of crowd-less waves elsewhere, so we packed up and hit the road.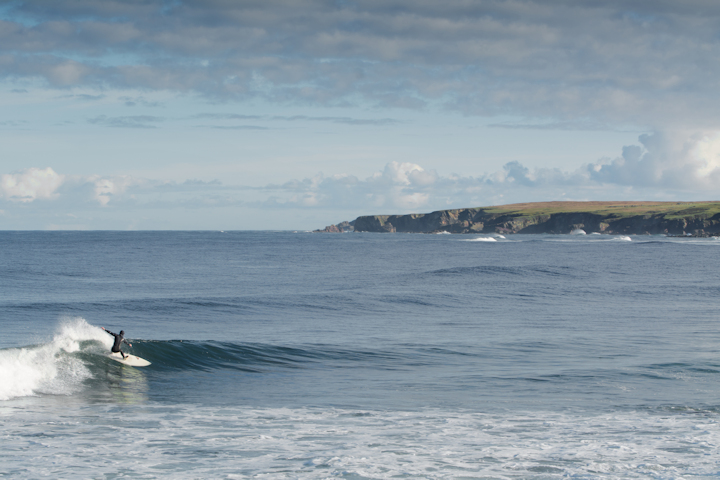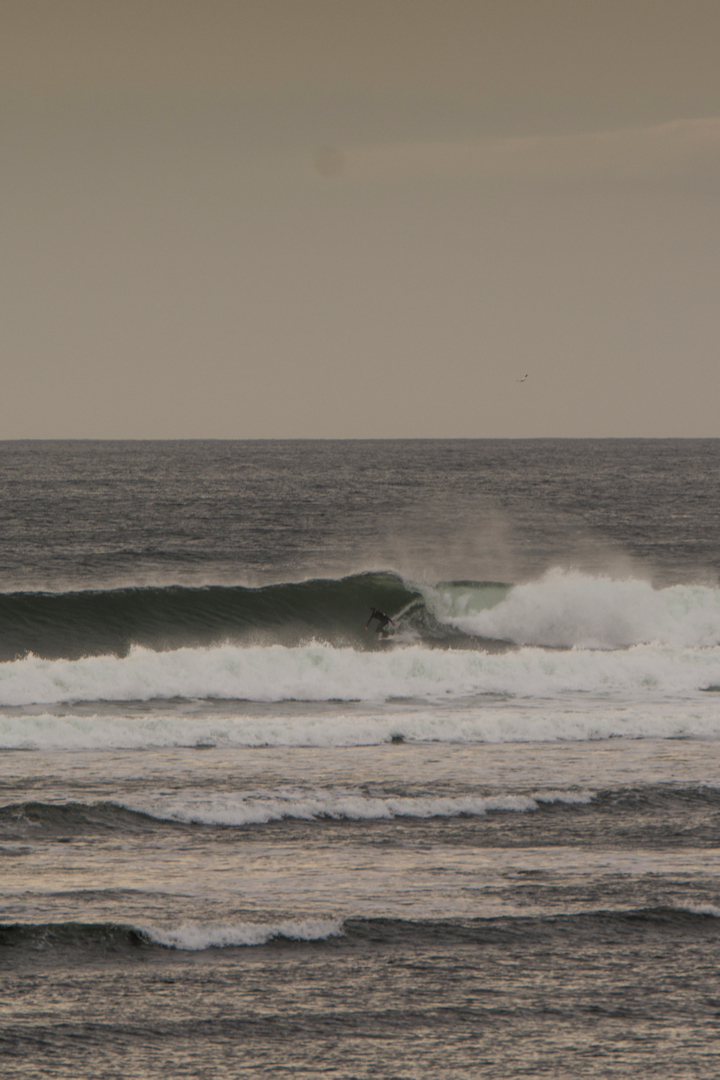 Mike needed to head back to the States and the following day our good friend Michi, aka "The Pho-tographer" would join us for the last leg of the trip. We headed to the airport and made the swap.

Along the northern coast of Scotland, there are heaps of cool spots to surf and some of the most beautiful beaches I've ever seen! You'd think you were on a tropical Island in certain parts. The wa-ter is crystal clear, only the temperature of the water brings you back to reality! We loved Scotland and Sarge ranks it at the top of the places we've visited together. But we had our sights set on the Isle of Lewis and the weather on the Isles can be extremely unpredictable. Surf trips are always a gamble and after getting to know the northern coast of Scotland, we weren't sure if we wanted to take the bet and make the crossing with the time we had left. In the end, we decided to save the Isles for another trip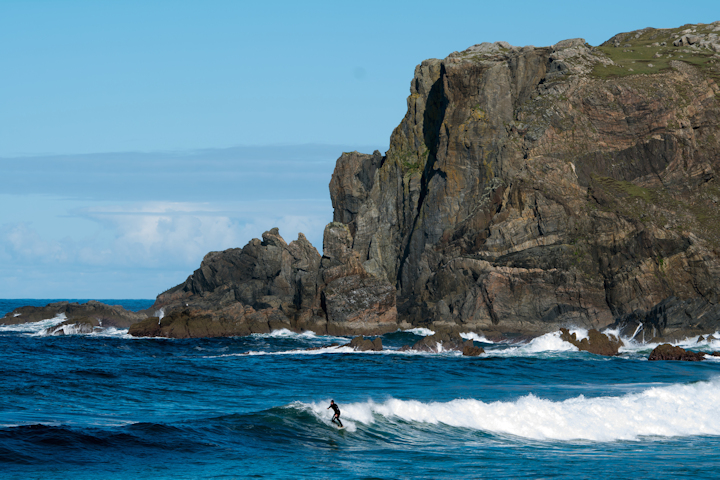 I don't want to give too much away because we want to keep it to ourselves, but if you have a thirst for adventure, for the beauty of rugged coastlines and you want to score world class waves, then take the gamble. It paid off for us, both Sarge and I scored the best waves to date and we were surfed out!! We'll be returning again in the near future, no doubt about it. The locals are super friendly and if you have wheels, then you'll figure it out pretty quick.
So much happened on this adventure and I've only just scratched the surface of what was one of the best surf trips I've ever been on…..till next time Scotland and thanks for the memories!