James Woolston | British (for now) | Lisbon, Portugal
Jim caught the surfing bug at a very young age. Born to windsurfing parents on the stunningly beautiful Isle of Purbeck, he soon discovered Dorset's premium reef break, Kimmeridge Bay, and the sail and rig became obsolete.
Over the years Jim has migrated further and further south along Europe's Atlantic coastline pursuing the perfect life/surf equilibrium. His family now resides 50Km north of Lisbon, Portugal, in farmer country. What Jim describes is what many of his peers would consider to be the Shangri-La of surfing. "The people in my village have little idea that the coastline is littered with some of the best (secret) surf spots in Europe!" he boasts.
In Portugal, Jim and his family enjoy an almost subsistence living, growing their own vegetables, bartering with the locals and brewing their own beer, which allows him to spend less time chasing the coin and more time with his family and surfing, when the waves dictate. He seems to have an enviable balance between homelife and his passion, and he knows it, happy to give credit to his wife and son:
"How can surfing, life and family go together? They can't. The simple fact is that I am surrounded by amazing humans that understand me and my addiction. My son and wife both surf which helps, but they know when the isobars dictate that I must get in the water. The same is true for work, it has to fit around surf, on a normal 9-5 in the office or factory, we would nip out for a two-hour session and make the time up later after my son has gone to bed. I feel life is about making time for yourself and your hobbies but making sure you balance the work and family in there."
Jim earns a modest income on the fringes of the surf industry, testing equipment, contributing articles and assisting local surfboard shapers when they need a second pair of hands. Annie, Jim's long-suffering wife teaches English part-time too. His plan is to take Surf Bunker, an online surf magazine and board-swapping community with a growing readership, to the big-time.
"I've started a company called Surf Bunker, an online mag which will go on to 'dominate the world'. Only total domination is acceptable. I literally love everything about that I do, it's what consumes me on a daily (and nightly) basis. The thirst to learn more is insatiable."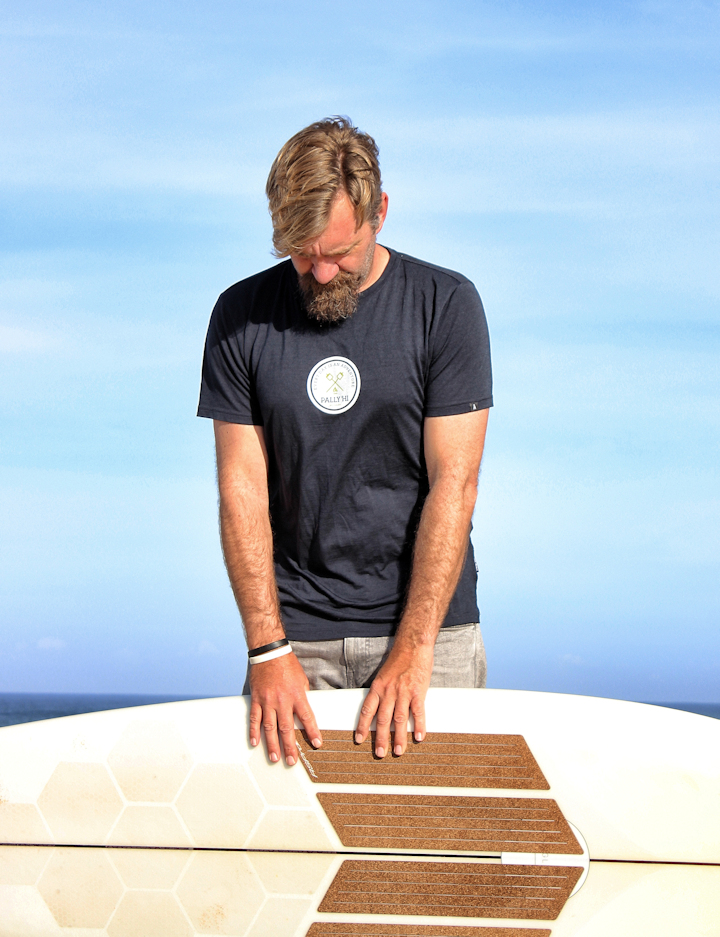 Asked about how he spends his downtime; Jim is unquestionably British in his tastes: "Walking my dogs through the countryside, finding a pub I have never been into before, starting a conversation and making some new mates. Meeting new people and getting different perspectives on life is one of the coolest things. Put down the phone and talk to people next to you on the train/bus/pub, you never know, they might not be weird."
Quizzed about his definition of adventure, Jim responds, "I've lived in various countries and immersed myself in different cultures… life is the adventure. A day does not go by that is boring or the same, challenges and experiences present themselves, always teaching me something new." Jim overflows with positivity and he's content with his lot in life. Sure, he still dreams of one day riding Japanese waves and powder, and experience the madness of Tokyo, but he cherishes every moment of his day-to-day.
See Jim's handywork at www.surfbunker.com