There are several things you should know about Sri Lanka before booking flights and pawing over a copy of the Lonely Planet:
1) 1. Sri Lanka is a building site. You will wander around the beautiful Sinhalese ruins at Polonnaruwa or the intricate rock carvings at the Dambulla cave temples and wonder how it's possible for the nation's collective building skills to regress so much in the past thousand years. Take a quick TukTuk drive around any town and you'll be amazed by how cement and reinforced steel manufacturers have the prime billboards all tied-up. It seems the nations' favourite past time is building with concrete, well until something more exciting comes along and the building work gets forgotten until a later date. Yes cricket is deemed exciting enough, so basically anything is a valid distraction. Sri Lanka's towns and cities are building sites and it can take a bit of getting used to.
2) 2. Everybody is a salesman in Sri Lanka. The TukTuk drives are getting kickbacks from the hoteliers who as it happens take a cut of the restaurateurs takings from your visit… and so on. It's all an intricate web of deals keeping the economy alive, so be prepared to feel like a wealthy commodity being passed from opportunist to opportunist. They're always friendly and respectful but it can get on your tits after a while.
3) 3. There are lots of dogs, but nobody owns them. It's a tough life being a dog in Sri Lanka, it's seriously hot all year long, you don't really have an owner, so forget IAMS or Pedigree Chum, and the road traffic is mental so you need eyes in the back of your head. Most dogs hang around in packs which can be a bit intimidating, but for the most part they're friendly. It's the evil temple monkeys that you need to watch out for.
4) 4. Forget what you know about the relative speeds of transport. Trains in Sri Lanka are so slow that it's almost faster to walk, you wonder if TGV would be able to travel the world's circumference in the time it would take a train to travel across Sri Lanka. Cars on the whole are slow, or at least driven that way. If you're traveling in a taxi, be prepared to be overtaken by a TukTuk traveling at Mach10 with an entire family packed like sardines into the rear seats. Which brings me to TuKTuks which are a fun, slightly exhausting and reasonably fast way to travel, but aren't too comfortable for long journeys. Fastest of all are the busses. These mummified fossils from decades past are the fastest and cheapest way to travel in Sri Lanka. Never comfortable and always terrifying, these old Ashok Layland work-horses speed across the country never creeping below 80kmh, railing around corners on two wheels and overtaking on blind hills. It's a rush traveling by bus in Sri Lanka which is something I never thought I'd say.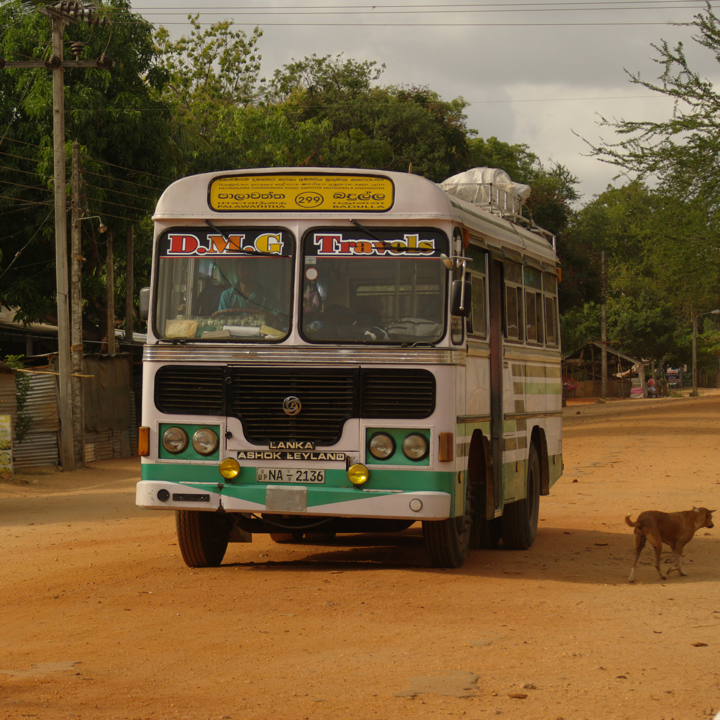 5) 5. Waste bins are also known as "windows" in Sri Lanka. Finished a refreshing bottle of Sprite and need to dispose of the bottle? No problem, just slide open your bus window and eject it onto the street. Sri Lanka's road sides, monuments and even jungles are piled high with litter.
If you can get your head around the half-finished concrete mess or urban Sri Lanka, ignore the relentless sales patter, avoid the vicious temple monkeys, accept that every bus journey will be a white knuckle ride and look beyond the piles of litter then you'll be set to enjoy an incredibly beautiful country with warm and kind people.
Our 16 day trip was split into three parts. All traveling in Sri Lanka starts at Colombo International Airport so by default that's where our journey began. We then travelled by bus through an area of Sri Lanka known as the Cultural Triangle, an area littered with the remains of ancient Sinhalese cities and temples. Following our cultural fix we enjoyed 6 days at Arugan Bay, a famous surf spot. Finally we travelled west across the country through an area called the Hill Country, world renowned for its tea plantations… a pilgrimage of sorts for any British tea drinker.
Stepping off the plane it was hot and humid, exactly what you'd expect when travelling to a country so close to the equator. Exhausted and over –heating rapidly we collected our bags, breezed through immigration and bartered a good rate on a taxi ride to get us to Negombo, a shabby beach town where we'd arranged our first night of accommodation.
Waking nice and early, we settled our bills, stocked-up on bottled water and took our first TukTuk ride to Negombo town centre to catch a bus east. 6hrs and two terrifying bus rides later we were in Dambulla, having changed bus at Kurunegala. Dambulla was hot, dusty, smelly and busy, exactly what we wanted after 6 hours of death defying travel. We offloaded our bags to a charming TukTuk driver who ignored our specific hotel request and shuttled us between his accommodation recommendations, presumably looking for the highest bidder. We eventually landed at the Sunflower hotel, a grubby but satisfactory place to base ourselves while we discovered the local area.
After an average breakfast and a putrid cup of coffee we were met by our friendly TukTuk driver who would be taking us to Sigiriya for the day, an ancient city built on the top of a 200m high rock. I've read the views from the top are spectacular and I'll have to take those as gospel as I didn't make it to the top myself. When strong winds, huge crowds (it was a Buddhist holiday), occasional hornet attacks and significant heights on rusty old steel structures are combined, I'm out. So with my tail between my legs we sped back to Dambulla for an evening of power cuts and repairing holes to our mosquito net with a roll of duct tape.
Day two started early because we wanted to avoid the crowds at the famous Dambulla cave temples and squeeze-in a safari trip too. By 7am we were browsing the temples. The dimply lit caverns display incredible images and statues of the Buddha. You've already read about the evil temple monkeys, be careful at the Cave Temples. The cheeky scamps rove around in gangs sussing out unsuspecting tourists and attempting to steal the occasional backpack on a hunch that the contents might be edible. We out-smarted the monkeys and hastily made our way back to the meeting point for our Safari pick-up. Safari was much cooler than I expected. We'd decided to go to Minneriya National Park, firstly because of its proximity and secondly because we were told it had the largest herd of wild Asian Elephants in Sri Lanka. Sold! The first hour of the Safari was spent cruising in the jeep along a gravel track through an arid jungle (it was dry season at that point). Wildlife at this point was thin on the ground, I'd imagined huge snakes, alligators, bison and leopards in a mass brawl for superiority of the jungle, something like the Jungle Book meets that Youtube video, the Battle of Kruger… it wasn't. We saw a Peacock, two monkeys and a rare Jungle Fowl, a rare bird that resembles a small chicken. At this point I was unimpressed. Within minutes of arriving at the large lakes of the National Park, known as the Minneriya Tank, our eagle eyed driver had spotted a couple of Elephants dozing along the shaded edges of the jungle. We chose our viewing spot under a shady tree and chilled as more and more elephants congregated. Within an hour the grasslands were full with elephants all busy with grazing and tentatively making their way to the water's edge. I say tentatively because they had to weave in and out of the queue of safari jeeps that had arrived right on time. By 4pm there were 50 or so Elephants of all shapes and sizes to watch, playing and munching down grass like it was going out of fashion, and at least 50 jeeps full of tourists enjoying the spectacle.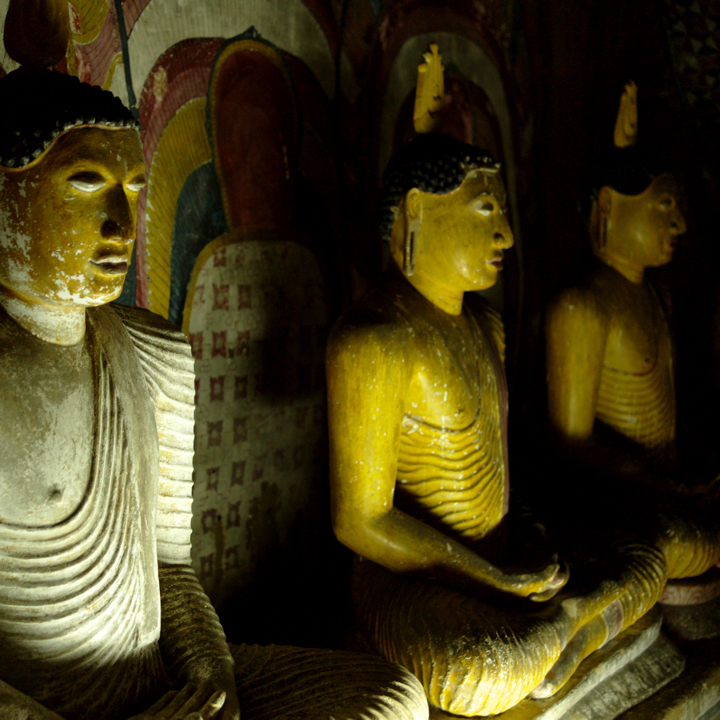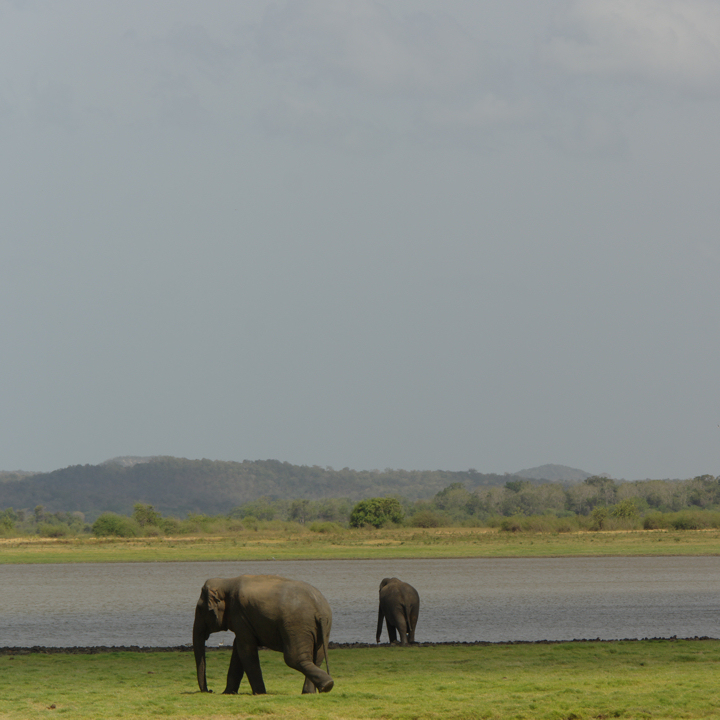 Day three meant moving our base from Dambulla to Polonnaruwa, which of course meant risking life and limb on another three hour bus ride. Once again we were met by a huddle of TukTuk drivers, all baying for our business. We caught a ride with a friendly driver who looked like a Sinbad, I have no idea why, but he looked like his name was Sinbad. He drove us to a pleasant guest house just around the corner of the bus stop called the Manel Guesthouse. The rooms were clean and tidy, our hosts were very welcoming and the Lion beer (the only beer in Sri Lanka) was cold. Once we'd dropped-off our gear and shovelled down our lunch we were ready to tackle the ruins of the ancient city of Polonnaruwa. Founded around 300AD the city went through huge changes in its thousand years of existence as it switched between Sinhalese and Hindu ownership. Finally in 1293AD it was abandoned and it wasn't until the middle of the 20th century that it was rediscovered by British archaeologists. We travelled between the sites by TukTuk with Sinbad carefully and proudly explaining the history and significance of each building. As a little tip, I'd suggest that if you visit, you wear flip flops. Every site is "sacred ground" and you are asked respectfully to remove your footwear, our choice of hiking boots was a poor decision, damn those laces!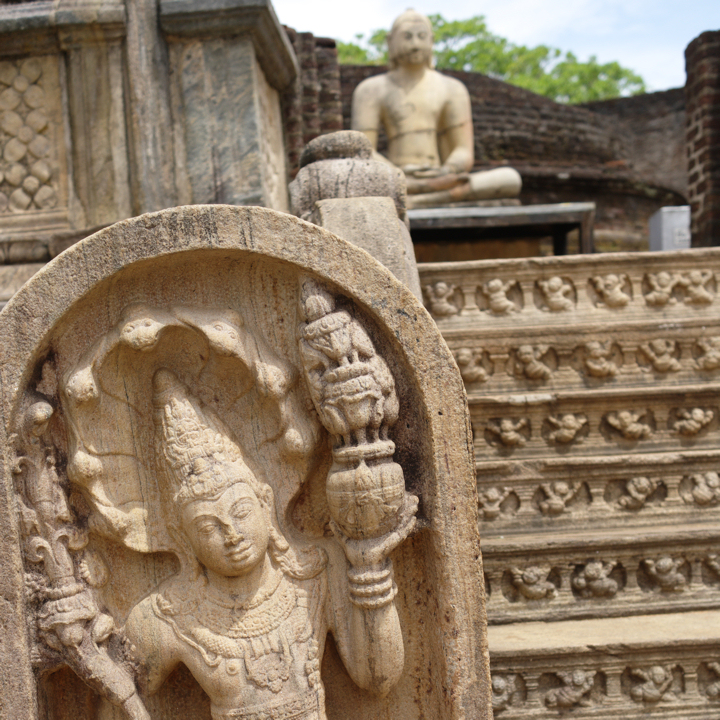 So that was the first part of our adventure. We'd avoided death by bus or hornet swarms, mugging by monkeys and extortion by TuTuk drivers and seen some incredible sights, from wild elephants weaving their way through a safari jeep traffic jam to the vibrant Buddha carvings and astonishing ruins of ancient Sinhalese culture. Next we were headed to the beach, buy bus, at incredible speeds.