It's Saturday 0700AM in Bondasca, at approximately 1300m in the Bergell Alps. My alarm rings. It's time to get up.
The day before I'd packed all my gear into my car and started the drive from Austria to Switzerland. It took me about 10 hours in total to get to the parking lot at Bondasca. On the way, I'd picked up my climbing buddy Martin in Pontresina. After some dinner, were talking about how we wanna do the climb and went to bed - I slept in my car, Martin next to the car in the grass (his decision).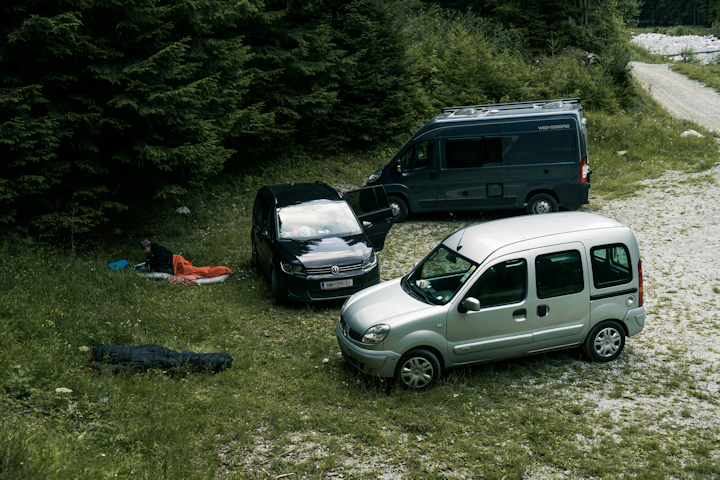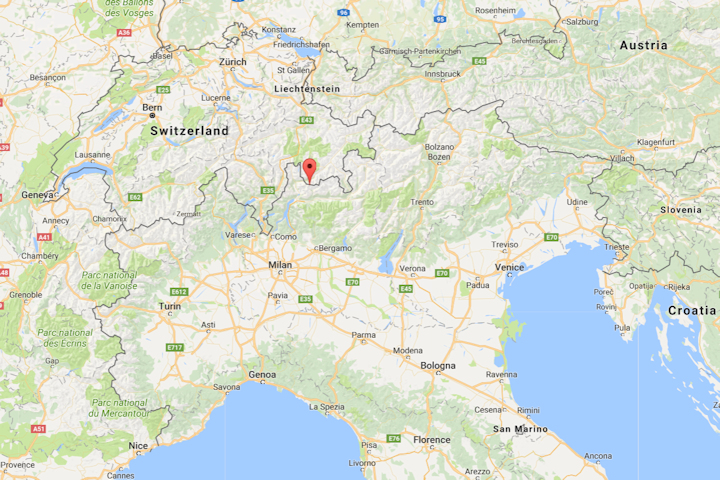 The other climbers who'd slept close by were already well into their hike. They'd started at around 0400AM, which makes sense if you want to climb Piz Badile and descend to one of the huts in the same day. The climb we'd chosen was about 2000 vertical metres and takes about 10-11hours to the summit and another 3hours from the top to a hut on italian side, then 8hours back to the parking lot. A long day by anybody's standards, so you might think we were running a bit late! Our intention was different; we'd decided to climb the north ridge of Piz Badile on Saturday and make use of a bivouac and sleep at the summit. Descending the following day via the south side and hiking back to our car via two mountain passes. So, waking up at 0700AM, starting our hike at 0800AM and arriving at the summit for sunset, whilst still having some time to rest on-route, was all part of the plan. Let's go!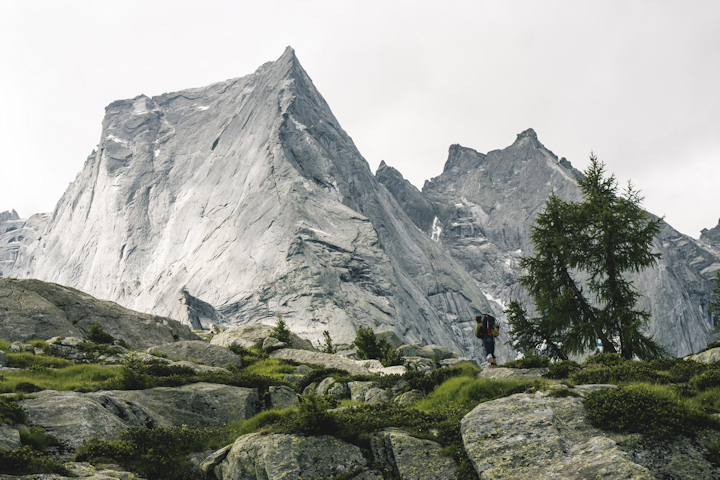 Our chosen route led us to 'Capanna Sasc Furä'. This hut is usually the starting point for most adventures on the north side of the mountains. We had our obligatory coffee and cake and boosted by a sugar and caffeine rush, we continued our hike, the goal is always to stay focused and mindful. Step-by-step we drew closer to the giant granite peaks. I'd read somewhere, that this region is also called Swiss Pakistan and now I know why! Before we'd reached the granite shell we needed to find some water to fill our second water bottle. We'd decided not to carry three litres of water on our hike to preserve energy, and hoped for some springs higher up. After a long search, we found a small water hole with some resident midges - the water looked and tasted fresh. We were ready to continue climbing.
We reached the granite wall around midday and prepared ourselves for the remaining 800m vertical climb. The weather looked perfect, just a slight wind was blowing. The first half of the climb was pretty fast, so we took a substantial break at around 0330PM, enjoying some tasty bacon and cheese. All that was missing was a cool bottle of beer… next time perhaps. We continued our climb and the wall became steeper with every step that took us closer to the summit. Climbing with heavy backpacks became more and more challenging and the strengthening wind made climbing even trickier. At a certain point in time we couldn't feel our fingers anymore. Now time was running against us, as we struggled to keep our fingers warm. We wanted to be at the summit when the sun was setting, but we were still climbing at 0900PM and the sun slowly slipped below the horizon before we summited. 15 minutes later we were at the peak. We quickly traversed to the bivouac box which was approximately 50m from the summit. We wanted to check if other people had had the same idea - luckily, we were the only ones up there which meant enough blankets were available, because we hadn't packed our sleeping bags. Now we could relax and eat the leftover bacon and cheese. On full stomachs, we crawled into the bivi box and tried to get some rest. Even with three to four blankets each we had trouble staying warm, but I did manage to get some sleep.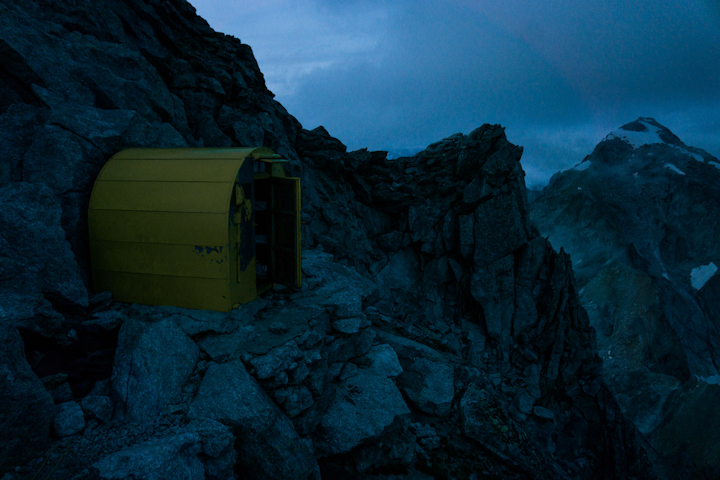 At 0500AM our alarms rang again. Unwillingly, we rose from our beds to watch the sunrise. It was super cold outside and still windy, but the sunrise, in clear skies, was amazing. It's always worth waking early in the mountains! After the spectacle, we decided to wait a while until the sun was high enough to engulf the path back down - rappelling down a face is much more fun in the sun than in the shadows! I tried to get some more sleep 'til we started our descent. By 0900AM the sun was warming the rock face and we set off. The descent on the south face is a combination of rappelling and walking, then rappelling again and walking again! After 3hours we reached 'Rifugio Gianetti', the hut on the Italian side of Piz Badile. We made use of the Italian prices (considerably cheaper than Switzerland!) and enjoyed a beer, a main dish, a dessert and then coffee and cake.
The remaining hike back to 'Capanna Sasc Furä' and to our car was far… very far indeed! we had to conquer the 'Passo Porcellixxo' and 'Passo della Trubinasca' passes. It was exhausting for our minds and legs as the path was either covered with loose rocks which meant it was incredibly slippery, or it was covered with big boulders, which we had to cross balancing. After five hours of hiking we stood in front of 'Capanna Sasc Furä' again. A quick beer and 45 minutes more of walking and we were back at our car, a very welcome sight! As it was 0800PM already when we reached the car our stomachs were screaming for food! We heaved our gear into the car as quickly as our tired bodies would let us and drove down to the valley for oversize pizzas and ice-cold beer - of course!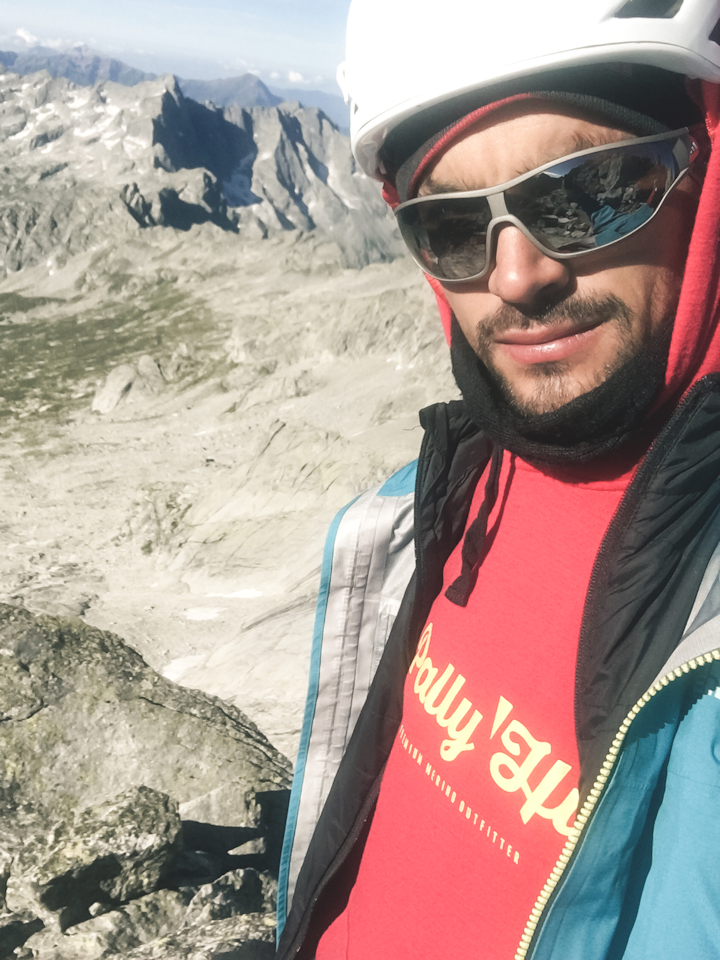 So that's how our Piz Badile adventure ended. It was two packed days on one epic mountain. We will be back there again one day for some more action!
Thanks for reading, Stefan