Last weekend, Pally'Hi's Peter Bauer and Johannes Ritter and a car full of buddies made the short drive across two boarders to the Swiss mountain town of Laax for the Sudden Rush Banked Slalom. Hosted by two legends of the sport, Nicolas Mueller and Terje Haakonsen, the event draws an impressive crowd from snowboarding's European history books. Not only were the competitors treated to a blisteringly fast course, but with every competitor goodie bag was a Pally'Hi merino wool beanie! Below are some photos from the event followed by the official press release:
Pally'Hi's Peter Bauer making sure his Amplid Pentaquark was running fast for his run | Photo: Vernon Deck

PB running the gates at Mach10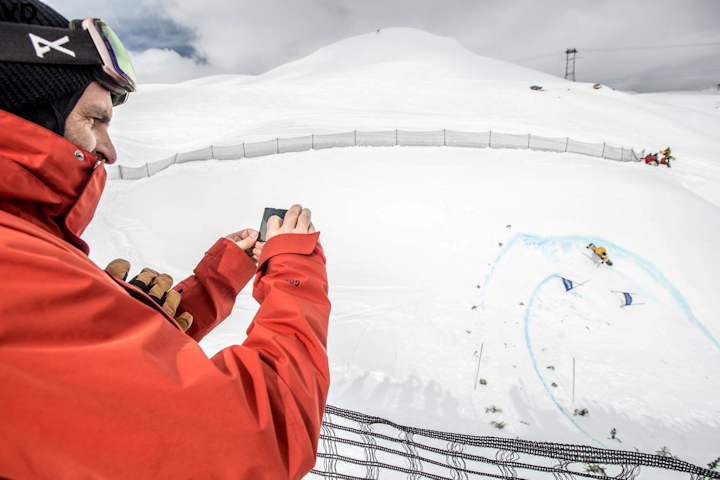 Peter filming his buddy Tom Hinterseer through the banks.
Peter and partner in 80ies snowboard fashion crime, Jose Fernandes catching up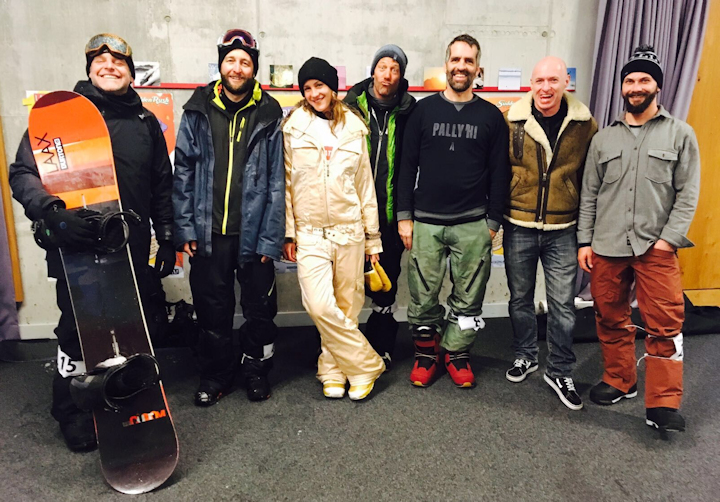 The event attracts its fair share of snowboarding's most influential characters
The third edition of the Sudden Rush Banked Slalom LAAX 2017 is a wrap.
Around 300 participants from 18 nations invaded LAAX to experience the Banked Slalom atmosphere and to master the challenging course laden with banked turns. Banked Slalom is a journey back in time to the early days of Snowboarding so to say the prototype of all Snowboarding contests. The course is following the natural terrain and was prepared by Nicolas Müller and Terje Haakonsen personally with support of the Snowpark LAAX Crew. Pro riders, former pro's and legends as well as numerous snowboard enthusiasts the youngest 7 years old, the oldest participants over 60 years old they all were committed with lots of fun and motivation. In the end they were all winners, as the conditions with strong winds were more than challenging. The 2017 winners with the fastest times were former Halfpipe pro rider Ariane Staib Glaus for the ladies and Halfpipe pro Christian Haller who is also a regular starter at the LAAX Open for the men's. Ariane had two reasons to be pleased, she won andcelebrated also her 12th wedding anniversary with her husband, who participated in the race as well. Christian Haller managed to throw down the fastest time of the day without a proper practice run not only his tricks in the Halfpipe are world class. Christian: "It's my first time at the Banked Slalom here in LAAX, so it's really cool that my run worked out so well. Terje and I are battling since a few years, until now he was always faster than me. I really wanted to beat him today!"

Around 50 kids were inscribed for Sunday's race. Lots of fresh snow changed all plans though. "The course up at Treis Palas is covered in snow. Additionally, it is located off piste with potential alpine dangers", explained Florian Weidel from LAAX Events the cancellation of the event in the morning. And so the "Banked Slalom Family Day" became a powder day.

Podium results:
Super Masters Men (50+)
1. Patrik Hasler 1:14.61 - SUI
2. Peter Bauer 1:16.45 - GER
3. Thomas Hinterseer - 1:18.89 - GER

Grand Masters Men (45-49)
1. Ruedi Herger 1:18.81 - SUI
2. Andy Meyenberg 1:20.21 - SUI
3. Didi Haab - 1:20.46 - SUI
Masters Women (40+)
1. Sol Bonderer Imper 1:41.78 - SUI
2. Nina Calame 1:51:30 – SUI
3. Cecile Plancherel 2:05.68 - SUI
Masters Men (40-44)
1. Reto Neiger 1:12.00 - SUI
2. Ivan Capaul 1:15.08 – SUI
3. Ivo Gmür 1:15.58 - SUI
Pro Women (18+)
1. Ariane Staib-Glaus - 1:20.69 – SUI
2. Anne Flore Marxer - 1:20.93 – SUI
3. Lisa Beck - 1:23.94 – SUI
Pro Men (18+)
1. Christian Haller 1:10.89 - SUI
2. Terje Haakonsen 1:11.37 - NOR
3. Michael David 1:12.23 - FRA
Open Women (18-39)
1. Silvana Clavuot 1:26.28 - SUI
2. Mar Ferreira 1:26.55 - ARG
3. Florence Züger 1:26.67 - SUI
Open Men (18-39)
1. Alex Rufibach 1:18.01 - SUI
2. Lorenz Gugger 1:18.16 -SUI
3. Ramiro Broggi 1:18.16 - SUI
LAAX and Sudden Rush are looking forward to the 4th edition of the Banked Slalom next year. Many of the participants are already planning to return to LAAX as especially for the legends this event offers the beautiful opportunity to catch up with former companions. Among them alpine legends Peter Bauer and José Fernandes, who contributed significantly to European Snowboarding in the 80s and early 90s. Or Fabien Rohrer, who was the first Swiss rider to win the legendary Air & Style event in 1996. They all were in the start gates together with current freestyle top riders like Christian Haller or Forest Bailey as well as freeride queens Aline Bock and Anne Flore Marxer.
The Banked Slalom and LAAX this is a perfect symbiotic relationship, as the event mirrors the resort's 30 years of dedication to Snowboarding - LAAX roots.
With a crowd like that, nobody wants to fall at the first turn!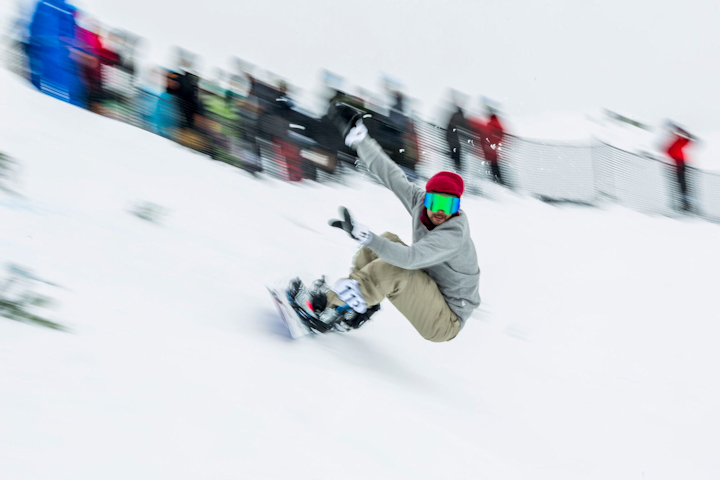 Event host Nicolas Mueller travelling faster than a speeding bullett. If you're not going to make it on the podium, don't make it with this much style
Fastest man of the day, Mr Christian Haller, beats the Haakon into 2nd place!