I'm not a writer, I'm not a travel guide, I'm not a photographer. I'm a fortunate soul that my work and my lifestyle revolve around doing and seeing some cool things. I'm me and a big part of me is my lifestyle. It's a simple sum of family and friends, good food, good living, playing, snowboarding, surfing, skating, traveling, adventures and new experiences.
We are the ever evolving sum of our experiences and chance encounters that we have in our lives, however small or big. In our early years this sum is strongly influenced by the world we're born into and we are therefore governed by luck. We then start to make our own luck, our own choice of experiences to expose ourselves to and to encounter new people.
As luck might have it, I'm sitting on a Riad terrace overlooking the sea, listening to one of my dearest of friends snoring away contently after a surf and a good feed. It's 3pm and we have no particular place to go... and anywhere we do choose to go around here, will be somewhere we've not been to before in our lives. Even going to a corner shop is new and exciting!
My friends, Cal, Anna, Matt and I are in Morroco, armed with a few bags, some surfboards, some cameras, a plan and some new attire from Pally'Hi to road test on our trip through these rugged lands.
It's hot! Getting in the 40+degrees hot, but strangely, if you find yourself in a good Riad, a house square in shape, built and focused around a garden/court yard in the center, sometimes with a small hot tub size pool, you'll find peace; it's a quiet and refreshing place to hang out. If you visit Marrakesh, it's essential... that and drinking lots of mint tea!
Marrakesh was crazy hectic and fun! Tiny little cobbled back street mazes, just full of life and goings on. Just people going about their own daily routines and most of them trying to haggle something with you. It's all done in good spirit, but you've got to stay strong. Walk away or learn to haggle hard, the Moroccans like a good haggle and always have a big smile.
Our days in Marrakesh were spent at the Souks, the main markets and just walked about with no real aim or direction, it was great. If you go in with knowing you're going to get nodded at, winked at, whistled at, bargained up and haggled at, then you're in for a treat.....if not, this place might be your worst nightmare. It's got loads to offer, amazing spice smells, stunning contrast of colours and some of the best banter and sales chat you've ever heard!
Be prepared, Marrakesh is full-on and it is intense, but wicked fun, just settle into the storm and ride it out. You soon toughen up and get into the haggling, coming out at the other side of the experience with bargains and a sense of haggle pride. And you'll probably have met a random bunch of cool people.
Eat local foods... Tagine becomes a staple diet and for good reason, it's simply a winner. Healthy and meaty, but just veggie is fine too, in fact I had a veggie option the other night..best feed yet.
Marrakesh was good for a couple of days, time now to move on. Our original plans were to drive North to Rabat, so naturally we went West instead towards what we hoped would be fresh fish Tagines and surf. What did we find? As it happens...both!
On a side note, the gear is holding up brilliantly and I'm really road testing hard. I've worn an item every day and it works really well in the heat. I seriously thought I'd be toast, but it does its wicking thing and stays dry. It all packs away really neatly; not taking up much space in my pack and it's ready to wear straight out the bag! Proper easy to clean and hang dries really quickly.
The nap bag has come into its own. I was a bit dubious, but for having as a travel companion it is a winner! Packed in my bag, I always have a pillow and a sleeping bag and it's great as sun protection on the beach!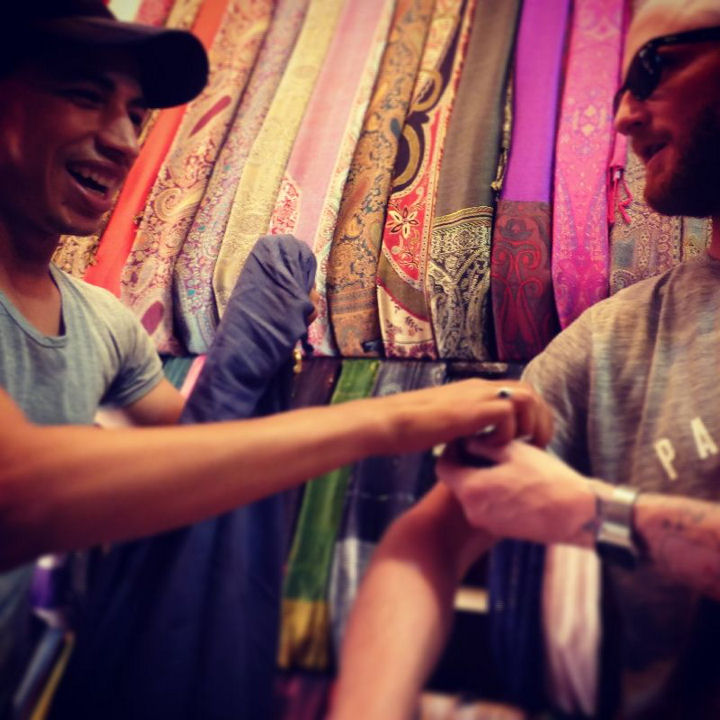 Nic impressing a Marrakesh fabric trader with his Pally'Hi merino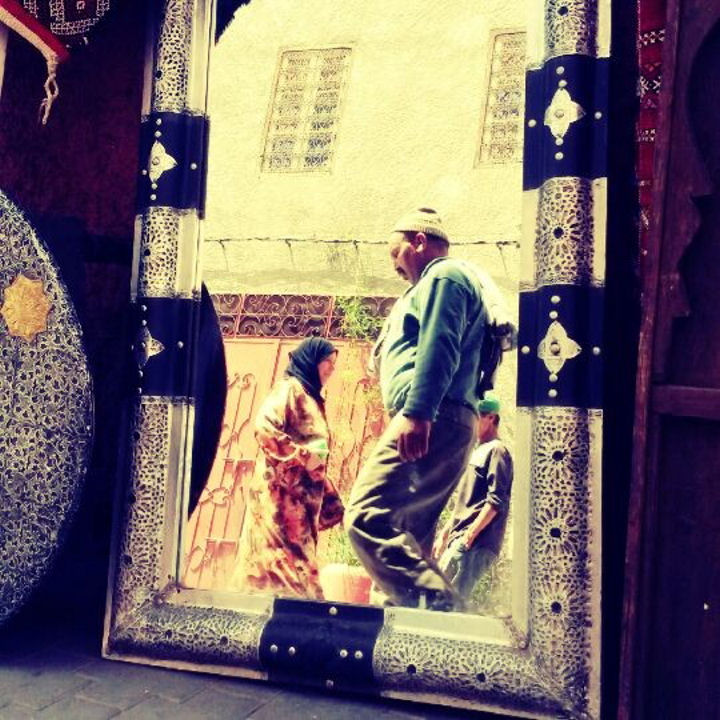 Downtown Marrakesh is a bustling hive of activity
Vivid coloured jars and towers of spices and fragrences. Marrakesh is an assault on the senses.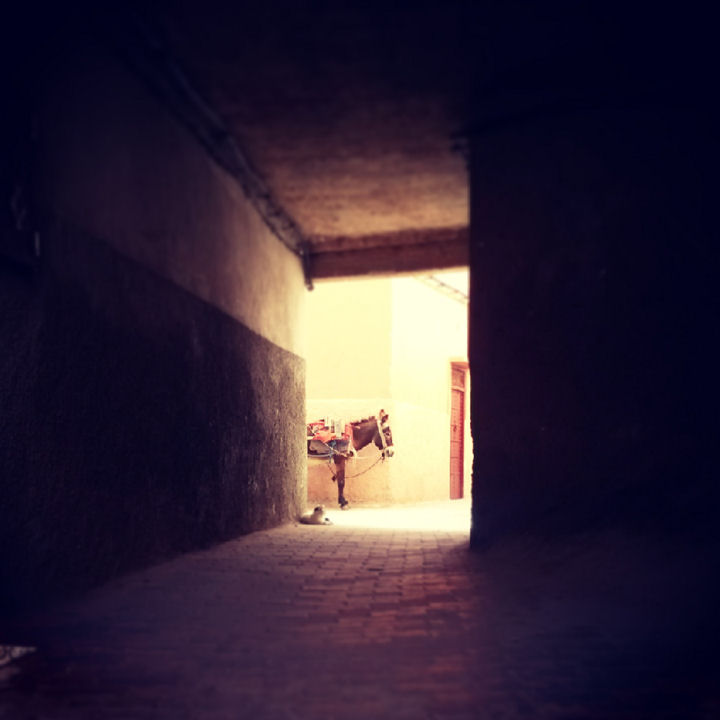 A rare moment of solitude in Marrakesh's busy streets gets ruined by a spying Donkey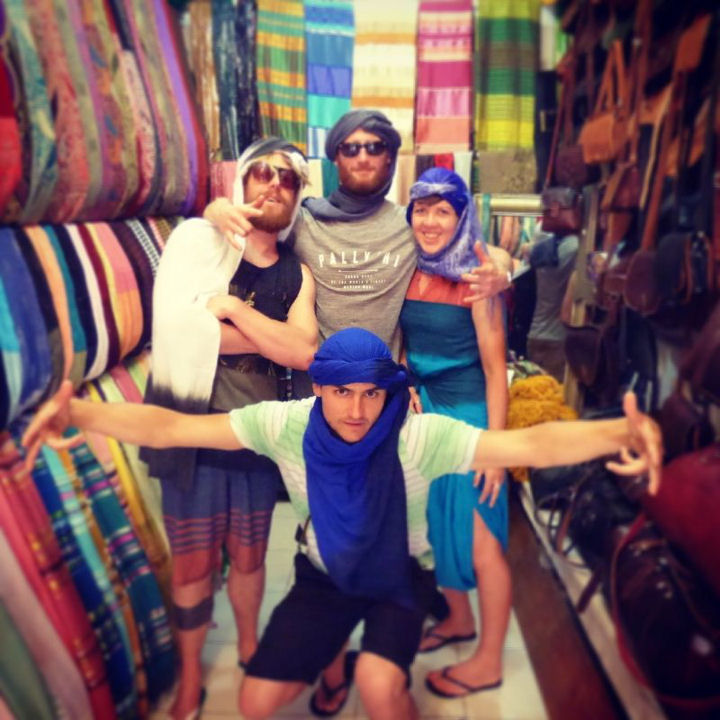 After haggling down the price on their new headwear, Nic and the crew pose for a holiday pic.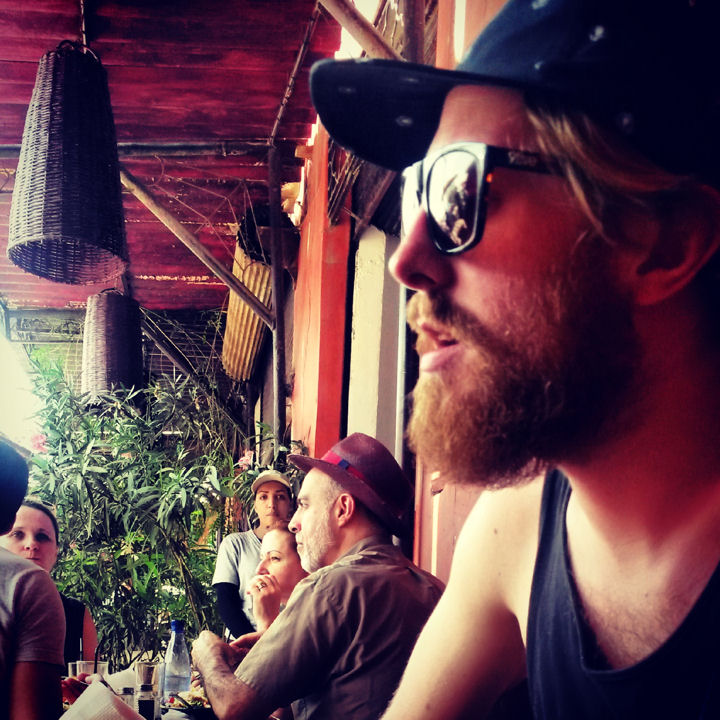 Nic and his buddies enjoy a Tagine and tea protected by the cool shade of a Riad Terrace